The long-awaited Asymmetric 6 came out last year and we took some time to analyze the test results to bring you the full resume. So here we go!
Technology
But first, let's talk a bit about the technology and what is actually new compared to the fifth generation.
Dry Contact Plus Technology enhances the tire's dry performance by utilizing an adaptive contact patch and optimized cavity to adjust to load variations. This ensures that the contact area adapts to driving styles, offering increased grip and reactivity during extreme maneuvers.
Wet Braking Pro Technology enhances grip on damp or wet roads with the help of an innovative resin system. Derived from technology used in ultra-ultra high-performance tires, this system increases the tire's flexibility and resistance to road roughness, boosting grip on the road surface. Goodyear's development of bio-based resins also contributes to the tire's sustainability.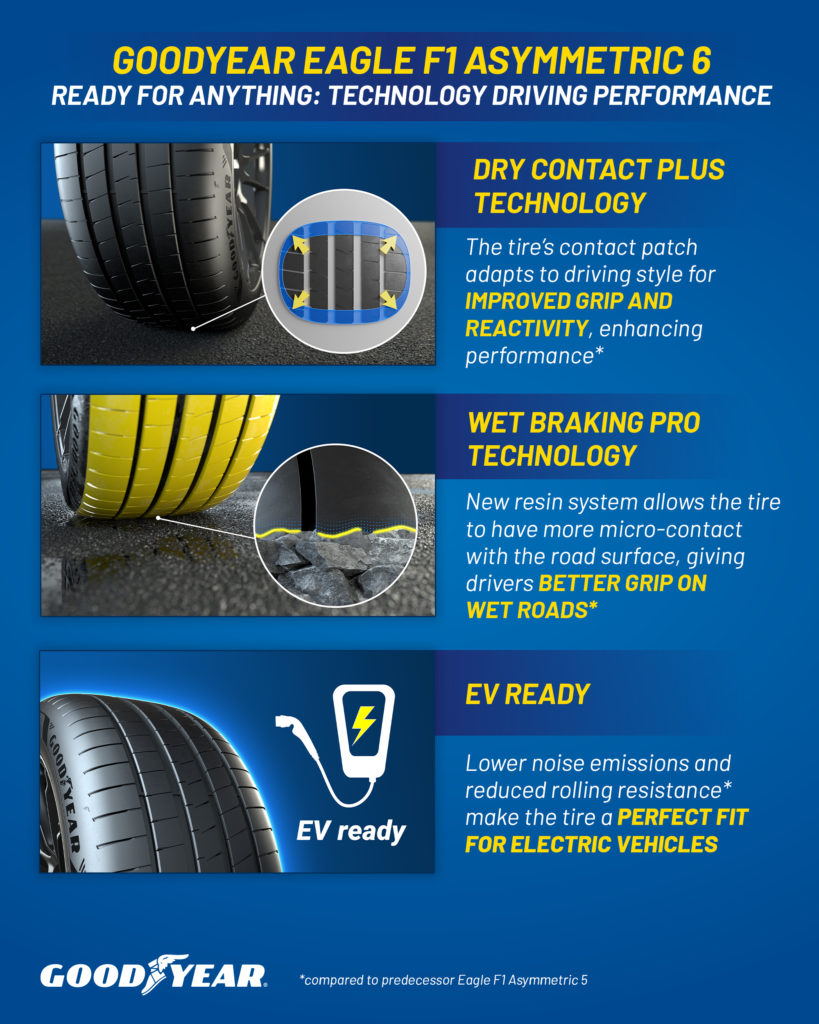 The GY Asymmetric 6 tire is designed with EV Ready Technology, incorporating noise-canceling patterns and thinner sipe designs to reduce noise levels by up to 2 dB. This makes it particularly suitable for electric vehicles. Furthermore, the tire features a lightweight design and an aerodynamic sidewall shape to reduce turbulence and enhance airflow. The new compound technology lowers rolling resistance, helping to extend the electric range and reduce fuel consumption in traditional vehicles.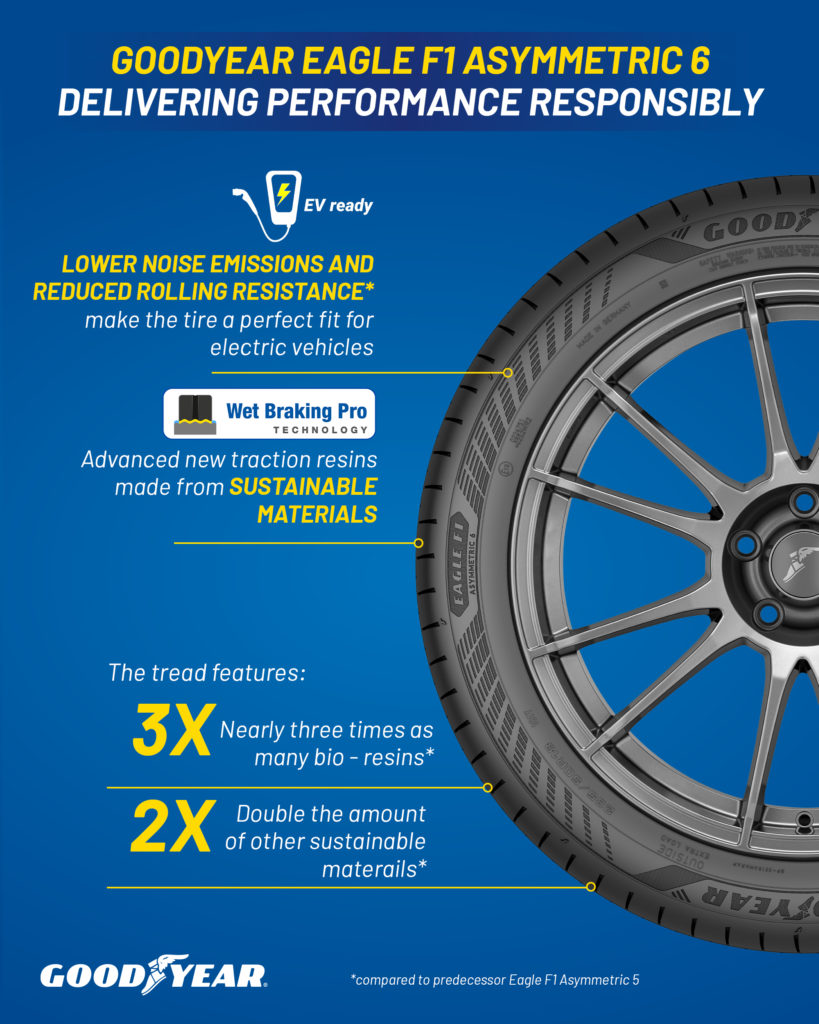 In summary, the GY Asymmetric 6 shifts a bit of it's direction towards being more ecological and EV ready, which is a difference from the previous generation, which was marketed in a more sporty way. Let's see if that is the case in the tests.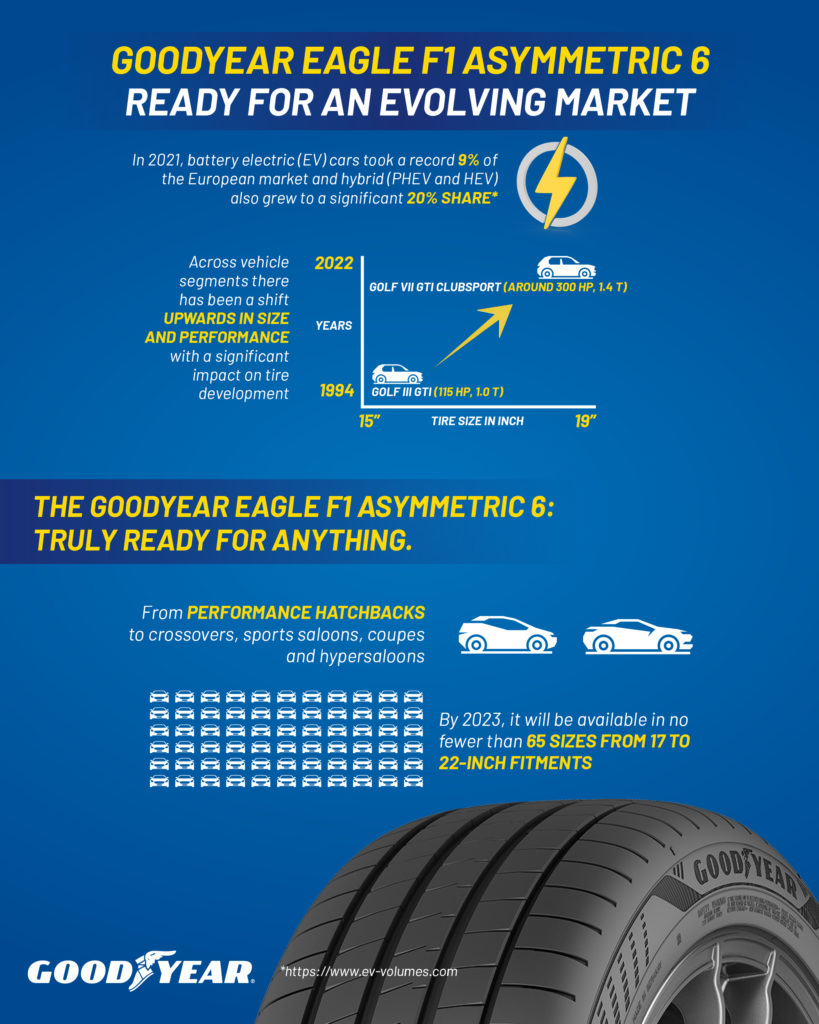 Test Results
There has been a total of 7 summer tyre tests where the GY was featured. In the Autobild test, the Goodyear Eagle F1 Asymmetric 6 secured the 2nd position out of 50 tested tyres. The tyre was praised for its balanced performance at the highest level, good aquaplaning reserves, short braking distances, and precise handling. However, the tyre's high price was considered a downside.
AutoMotorSport ranked the tyre 1st among 10 tested tyres. The testers appreciated its very short braking distances, outstanding grip, high cornering stability, and easy controllability in dry conditions. The tyre also performed well in wet conditions, with only minor weaknesses in aquaplaning protection.
SportAuto placed the tyre in 2nd position out of 11 tested tyres. The Asymmetric 6 had the shortest braking distances, best balance, and a very safe, wide limit range in wet conditions. The tyre also had strong braking, spontaneous steering, and high driving safety in dry conditions. The only downside was its cornering grip in wet conditions, which was not at the top level.
In the Autozeitung test, the tyre ranked 3rd among 9 tested tyres. The Asymmetric 6 showcased very high grip levels and was one of the fastest tyres on the handling track. The tyre had stable driving characteristics but reacted slightly slower than the top competitors. It was also the best in terms of comfort, with smooth and quiet rolling.
There were more tests and the GY Asymmetric 6 pretty much excelled in all of them – but there is one rival that is difficult to beat and that is the all new SportContact 7 we wrote about earlier, which is also the Goodyear's greatest rival. While the Conti is slightly better on-road, it can be too sporty for some of the drivers, meaning that noise levels are too high, comfort is sacrificed and fuel consumption can be a bit worse too. And that is where GY Asymmetric 6 comes into play. Want a quiet but sporty tyre? Asymmetric 6! Want a sporty tyre without sacrificing too much range for your EV? Asymmetric 6!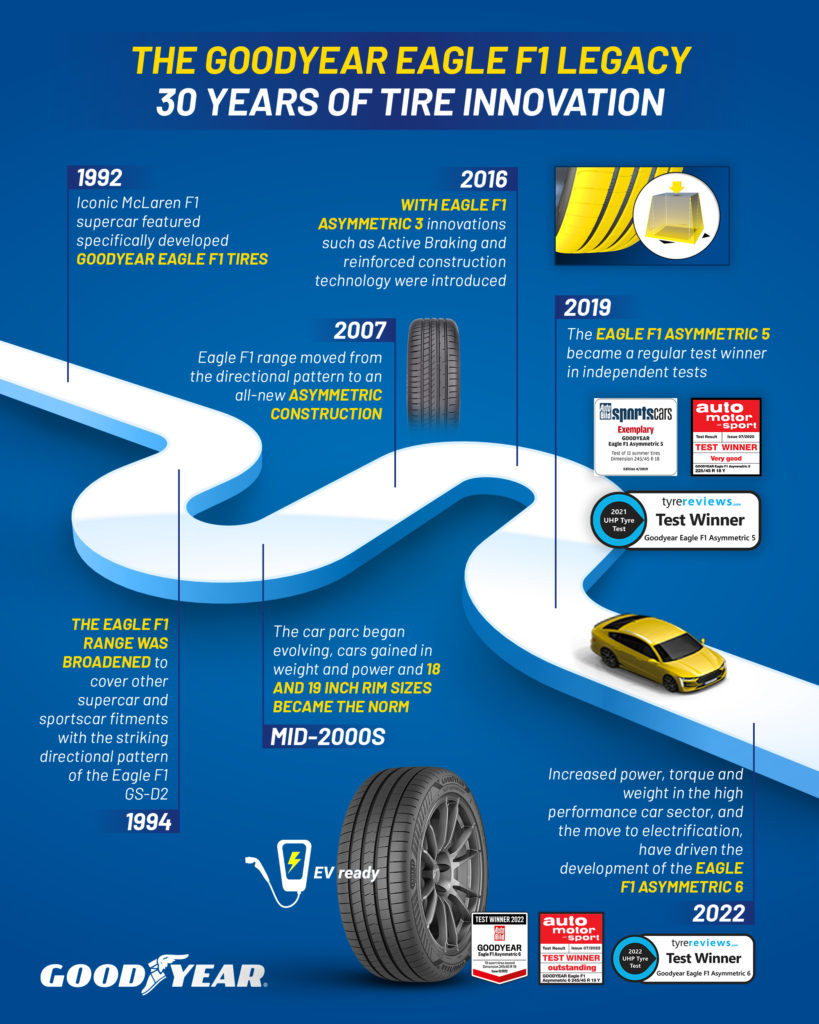 Verdict
Strengths: The Goodyear Eagle F1 Asymmetric 6 excels in short braking distances, excellent grip, high cornering stability, and precise handling. It also offers outstanding performance in both wet and dry conditions, with very high grip levels, good aquaplaning resistance, and driving comfort.
Weaknesses: The tyre's main downsides are its high price and minor weaknesses in aquaplaning protection and cornering grip in wet conditions.
Overall, the Goodyear Eagle F1 Asymmetric 6 is a highly recommended summer UHP tyre with impressive test results. It offers a great balance of performance, safety, and comfort, making it a top choice for drivers seeking a high-quality summer tyre. You can find up-to-date test results on it's own page here:Goodyear Eagle F1 Asymmetric 6.